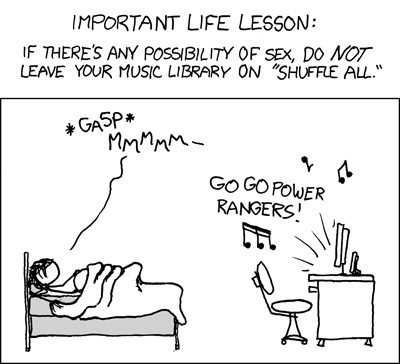 This comic (from the wonderful xkcd.com) really struck a chord with me. Not because I have my shuffle music on during teh squelchy (though I did have a "luuuuuuuuuuuuuurve" playlist in my first year of university, shame I never played it), it is because this sort of thing could happen to me. Here's the three most embarrassing songs on my playlist should the situation shown above arise.
1. Nights – Dreams Dreams
Yes, nothing more embarassing than music that you are too cool to listen to. This is horrendously geeky as well as being childish, cheesy and actually a rubbish song. Nights is a game for the Sega Saturn (which is ace – reviewed at Retro Garden) and also for the Wii about a flying jester in a dream land who protects children from nightmares using jewels called Ideya which symbolises the children's inner strength. Sound shit, yes, but it's one of the most fun games ever made. The soundtrack is – like I said – cheesy and I shouldn't like it, but I love it. Here's Dreams Dreams on Youtube.
Incidentally, I will be reviewing Nights – the Wii Incarnation soon.
2. Ric Derringer – Real American
Unlike the cheesy Nights song, I make no shame of loving this song. It's an ace song in the time when A-Team and Knight Rider were brilliant. Hell, it was Hulk Hogan's theme song (and the video is just awesome for it with it's crunching up of Colonel Gadafi portraits, planes going into buildings, bike crashes, headbutting the USSR flag and a rare footage of Hulk Hogan making a dropkick from a nobody wrestler looking like it actually hurts). How cool can it be? Awesome. But really is not the sort of music to play to a lady. It'd give a new meaning to "Hulking Up", I guess.
Kareoke in New York? Oh yes, most definitely.
3. Panacea – In the Rain
This one you may not've heard of, unless you were privvy to the North Wales Indie Scene in the early 00′s. Panacea was a band from high school formed by my mates including semi-regular commenter Sibz. It was written by the lead singer about – allegedly – somebody who I know very well for many years, but – I really like it, it's an ace love song that makes James Blunt offerings look like it was written by a whiny annoying shit.
However, it is my mates band. The fact that my at an unexpected time during intimate moments my mate (and current Eurosport journalist) would pipe out with "It's been a long time, it's been a hard time, it's been a lonely time without youuuu…." would well and truly throw me off my game.
So, those our my three picks. What are yours?