I'm not sure how many of you hardcore bloggers from accross the pond are interested, but here's my latest project, a social media mashup called #UKSEOHere.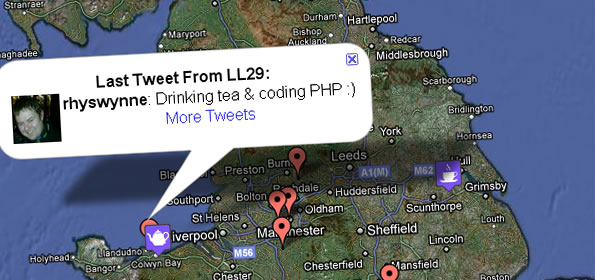 Inspired by a tweet by NicholaStott, it takes tweets people tweet in to the service & then plots them based on a postcode within it. For example, if you tweet "#ukseohere M1 Hello World!". You'll be tweeted as being in the centre of Manchester. It's designed to be used by SEO'ers to meet, network, go for a beer or just share what they are upto.
It's really fascinating how well it's done, and how people are using it (that includes me). The idea was originally for SEOers to meet up (or how Han so eloquently put it – "You just want to find people to buy you drinks"), but in it's early stages it's turned out to be great at finding interesting SEOs for Twitter. I am planning on adding some more functionality to it (the map is getting pretty full & I'd also like to piggyback on events as well), and everybody seems to have their own ideas for icons. There's plenty of room for development.
Side Point – Google Real Time Search – Not Exactly Real Time?
One thing that Peter Handley noticed was the erraticness of the updates of #ukseohere in Google's real time search. It makes sense in principle. Google does index regularly updated sites quicker than irregularly updated ones (so a story posted on the BBC News website is likely to be indexed within the day). The same looks to be true for tweets & hashtags. However, what I can't seem to work it out myself. You see – when I checked the Google real time results for writing this story, it listed two of my tweets, one from recently, and one from a number of hours ago. I know from the search feed that people have tweeted the hashtag in between. This suggests that people who tweet regularly (such as myself) get indexed quicker than those who don't. But then what about huge events in the public eye where everybody's tweeting them? Is there two crawlers (one crawling tweeters, one crawling topics) that gets switched if there's a saturation point in the number of times a topic is mentioned? Or is Google Real Time Search invariably rubbish & unpredictable?